6.0L Mandatory Recalibration
Warranty Claim Form

Service Bulletin Reminder



Indmar Products determined that certain 6.0L L96 engines built during the 2011 model year did not conform to emission regulations for 2011 marine spark-ignited engines. The correction for the emission failure is an ECM calibration change.

The required calibration will be installed in the ECM using your Diacom Diagnostic System. Please contact warranty@indmar.com and we will e-mail the specific calibration file to you. This calibration file is only intended to be installed in the specific engines that are included in this recall.

October 14, 2011 we sent you a service bulletin that included stickers that must be affixed to the ECM of the engines that have been recalibrated. Apply the sticker to the front of the ECM on the flat surface to the left of the wiring harness connector. See photo below. When you have completed the recalibrations, enter the engine serial number on the warranty claim form and return the claim to us. CWe need this information to be able to pay you for the recalibration as well as to report the status of the campaign to the EPA.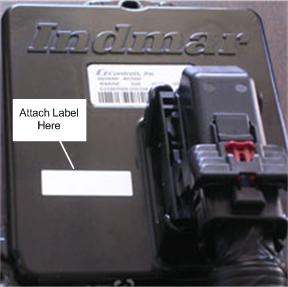 Drivability and performance will be improved with this calibration change. Your customer may also see an improvement in fuel consumption depending on their driving habits. If the engine is not repaired, it may fail an emission inspection test if your state or local law requires one.

If you have any questions or concerns, contact the Customer Service at Indmar Products at 800-238-7112 or via e-mail at warranty@indmar.com.

Thank you for your attention to this important matter.