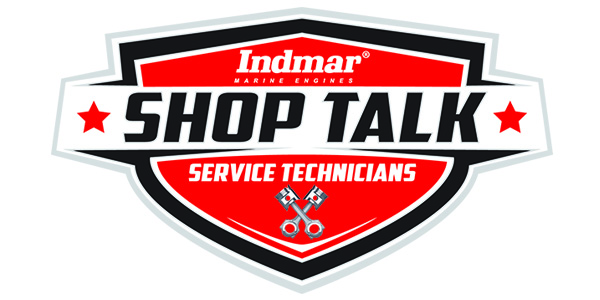 2015 MODEL YEAR
DIACOM UPDATES
ADVISORY: S2015-1
The changes made to the ECM on our 2015 Model Products with 6.2L Ford based engines will require updates to your Diacom Diagnostic System. There are changes required both in the Diacom software that resides on your computer and in the Diacom Diagnostic Cable.
To be able to communicate properly with the new Ford based product, the Diacom software on your computer must be Version 2.90 or higher. You can download an update to the most current software at no charge from the www.rinda.com website. If you are not sure how to identify your Diacom software version, there is a tutorial in the Files and Forms section of the Indmar Dealer Portal that shows you how to identify the Diacom Software Version as well as the software version of your Diacom Diagnostic Cable.
You will also need to update your Diacom Diagnostic Cable. If you have an older style cable, P/N 94074, the cable version must be Version 21 or higher. If you have a newer style cable, P/N 94073, the cable version must be Version 28 or higher. The tutorial on the Dealer Portal will show you how to identify which cable you have and which software version you have.
There is a charge to update the cable. The update kit is our P/N 997423U-2 and the cost at the time of this Service Advisory is $249.00. You can also buy the upgrade directly from Rinda Technologies for the same price. If you purchased your Diacom Kit or upgraded your Diacom after January 1, 2014, Rinda will provide the update to you at no charge, just contact Rinda Technologies with proof of purchase and they will send you the update instructions. You can contact Rinda Technologies at 773-736-6633 or by e-mail at custservice@rinda.com.
Don't wait till you need it! Upgrade your Diacom now so you will be ready!
Circuit Breaker Issues 2009 - Current Engines with Single Plug Indmar ECM
ADVISORY: SV2013-2
We have had occasional reports from the field of engines randomly shutting off or intermittently losing electrical power. We have traced this issue to intermittent loss of contact in the circuit breaker. This intermittent operation is not related to an over-current event but rather a result of vibration and momentary loss of electrical contact within the breaker.

The 40Amp circuit breaker on these engines is located inside the electrical box that is mounted near the ECM. The circuit breaker can be removed from the electrical box by wiggling it and pulling it out of the receptacle in the electrical box. The legs on the breaker are sized and spaced like a standard Maxi-Fuse.

If you experience any of these intermittent power loss events, Indmar recommends replacing the 40Amp Breaker with a 40Amp Maxi Fuse. If you do this, also supply a spare 40Amp Maxi-fuse for the customer.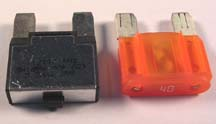 40Amp Maxi-fuses are readily available at auto parts stores. You can also purchase them from Indmar by ordering Part Number 807118.
Emission Regulations Canadian Environment Act
Now in Effect On All Marine Spark-Ignition Engines
Under these regulations, starting with the 2012 model year, a dealer must submit an end of model year report NO LATER than JUNE 1, 2013
of the calendar year after the model year for which the report isis , 2013 made.
Meaning, the report covering the 2012 model year products is due June 1
st
, 2013 and must be signed by a person who is authorized to act on the company's behalf
.
What products are to be included in the report?
Products include outboard motors, personal watercraft, inboard engines (marine spark-ignition engines) as well as snowmobiles, off-road motorcycles, all-terrain vehicles and utility vehicles (off-road recreational vehicles).
Who is to submit a report?
Dealers who import products from the list above from the U.S. for the purpose of first retail sale in Canada. The report must be submitted by JUNE 1, 2013.
How to submit the report?
Click the link below to access the report forms.
You MAY NOT have to calucaute your credits and/or decficits from your boats with an EPA certified marine engine product, but If your company imports other marine engines or watercraft, such as outboard engines or PWC's, you MAY need to submit a more detailed report.
You are not obligated to use the template, but may choose to do so or use it as a guide in the preparation of your own version of end of model year reports.

The following links are available if you need to include additional information in your Year End Report:

Technical Guidance: http://www.ec.gc.ca/lcpe-cepa/default.asp?lang=En&n=6E6C222F-1
Regulations: http://www.ec.gc.ca/lcpe-cepa/eng/regulations/detailReg.cfm?intReg=109
Who should the report be sent to?
Your report should be submitted and addressed to the following:
Director
Transportation Division
Energy and Transportation Directorate
Environment Canada
351 St. Joseph Blvd.
Gatineau, Quebec K1A 0H3
If you decide to mail your submission, please ensure that the postmark indicates that it has been sent on or before the deadline.
Can the report be sent by email?
You may also submit your report by email to: VehicleandEngineInfo@ec.gc.ca.
What if I have more questions?
Environment Canada will hold a webinar in English on :
Marine Engines - Wednesday 17 April 2013 (1:00 to 2:00 pm EDT)
It is highly recommended that you attend this webinar as it will relate to the end of model year report requirements. Please confirm which session(s) you would like to attend as well as the preferred language by contacting the Regulatory Administration Section at: VehicleandEngineInfo@ec.gc.ca.
Water Circulating Pump Replacement
on Certain
2012 Model 5.7L Engines
Our engine supplier, General Motors Powertrain, has informed us that certain engines produced during our 2012 model year were built with water circulating pumps that may fail. In July, we issued a Service Advisory, SV2012-3, describing the issue. Since that advisory was issued, we have determined that the appropriate course of action is to inspect all of the pumps on the engines within the serial number range from 170158 to 172350 and replace the pumps that are part of the group that GM has identified as potentially defective.
What You Should Do
Inspect all pumps on engines that you have sold or that are in your inventory which fall within the serial number grouping. End user customers whose engines have been properly registered will receive a notification letter informing them of this situation.
To inspect the pump, it must be removed from the engine. There will be a number stamped on the back plate of the pump as shown below (Fig. 1). If the first 5 digits of the number on the pump plate is below 12027, the pump is suspect and must be replaced. If the first 5 digits of the number on the pump plate is 12027 or higher, the pump is OK to reinstall. Please record the engine serial number and the number from the pump backplate on the warranty claim.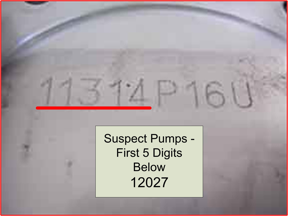 Figure 1 Circulating Pump Back Plate
If the existing pump will be reused, reinstall using two new 551033 water circulating pump gaskets. Torque the circulating pump bolts evenly to 33 lb ft (45 Nm).
If the pump must be replaced, replace the pump using P/N 551045SB. New gaskets are supplied with the pump. Torque the circulating pump bolts evenly to 33 lb ft (45 Nm). Remove and retain the back plate from the pump to be returned with the warranty claim. The rest of the pump can be scrapped.
File the appropriate warranty claim form for the task completed. Form 1 is for units that were inspected and found to be good (ID number 12027 or higher). Form 2 is for units that had ID numbers below 12027 and needed to have the pump replaced.
SB2012-1 Claim Form 1 Instructions
Fill out your dealer information on the claim form. Record the engine serial number on the form. Fax or e-mail a copy of the completed claim form as indicated on the form.
Your dealership will be reimbursed for:
2 P/N 551033 Circulating Pump Gaskets plus shipping.
1 Hour Labor at your Warranty Labor rate
SB2012-1 Claim Form 2 Instructions
Fill out your dealer information on the claim form. Record the engine serial number on the form. Return the claim form and back plate(s) like you would return any other warranty part using the UPS Returns on Web system. If you are unfamiliar with using Returns On Web, contact Indmar Customer Service at 901-353-9930 for assistance. Please write "RMA SB2013-1" on the outside of the box.
Your dealership will be reimbursed for:
1 P/N 551045SB Water Circulating Pump plus shipping
1 Hour Labor at your Warranty Labor Rate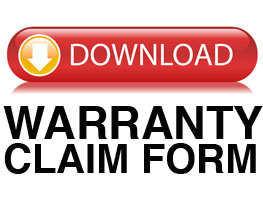 ALL ENGINES WITH CATALYTIC CONVERTERS
All of the engines that we manufacture with catalytic converter exhaust systems are equipped with oxygen sensors that are used to measure the amount of oxygen in the exhaust gasses to help the ECM maintain the proper air fuel ratio. We have seen a number of occasions where dealers have returned O2 sensors because data trouble codes indicate an issue with one or more of the sensors. Some of the sensors we receive are actually not functioning properly and covered under Indmar's limited warranty. The majority of the sensors that are returned are found to be "coked" (full of carbon) and are not warrantable. Please do not return coked O2 sensors for warranty consideration. These sensors are not defective. The coking condition is caused by overloading the engine.

If a consumer is having this coking issue it is because the engine is not propped correctly for the load in the boat. The dealer needs to inspect the oxygen sensor and if it is coked they should review the loading of the boat and assist the customer in the selection of an appropriate propeller.

A boat that is propped correctly will allow the engine to operate within the recommended operating range at wide open throttle when the boat is loaded for the type of activity it is being used for. The WOT operating for our engines are as follows:
5.7L Engines 4800-5200 RPM
6.0L and 6.2L Engines 5200-5600 RPM
A coked oxygen sensor can generally be cleaned up by running the boat lightly loaded above 3500 RPM for several minutes at the end of the session to allow the to get hot and cook off the carbon. The engine will benefit from this lightly loaded, high RPM operation in other ways as well. It may help burn off carbon from the spark plugs and combustion chambers as well as letting the oil temperature increase to allow impurities such as water and unburned fuel to evaporate.

Research, Support and Solution
In the past few years we have noticed an increase in discussion related to oil consumption in engines that are used in high load activities, namely wakeboarding and surfing. Indmar has always believed engines used in low speed, high load activities can have a tendency to burn more oil than unloaded engines. Indmar now has the data to support it and a solution for our customers. We are supplying this information to you as a tool so you can inform and educate your customers on how they can better protect and properly service their engine especially if it is being used primarily under load.

The chart below depicts engine loads for a car, normal boat operation (no ballast), surf and wakeboard (full ballast). All of this data was derived from an LSA engine in a 24' boat. The Wakeboard testing was performed using a highly ballasted boat with 5700 lbs. of ballast, a common configuration for events. Surf mode was tested using 2800 lbs. of ballast. The normal load curve was developed from boat testing with no ballast in the boat. The car data was taken from prior testing within the industry.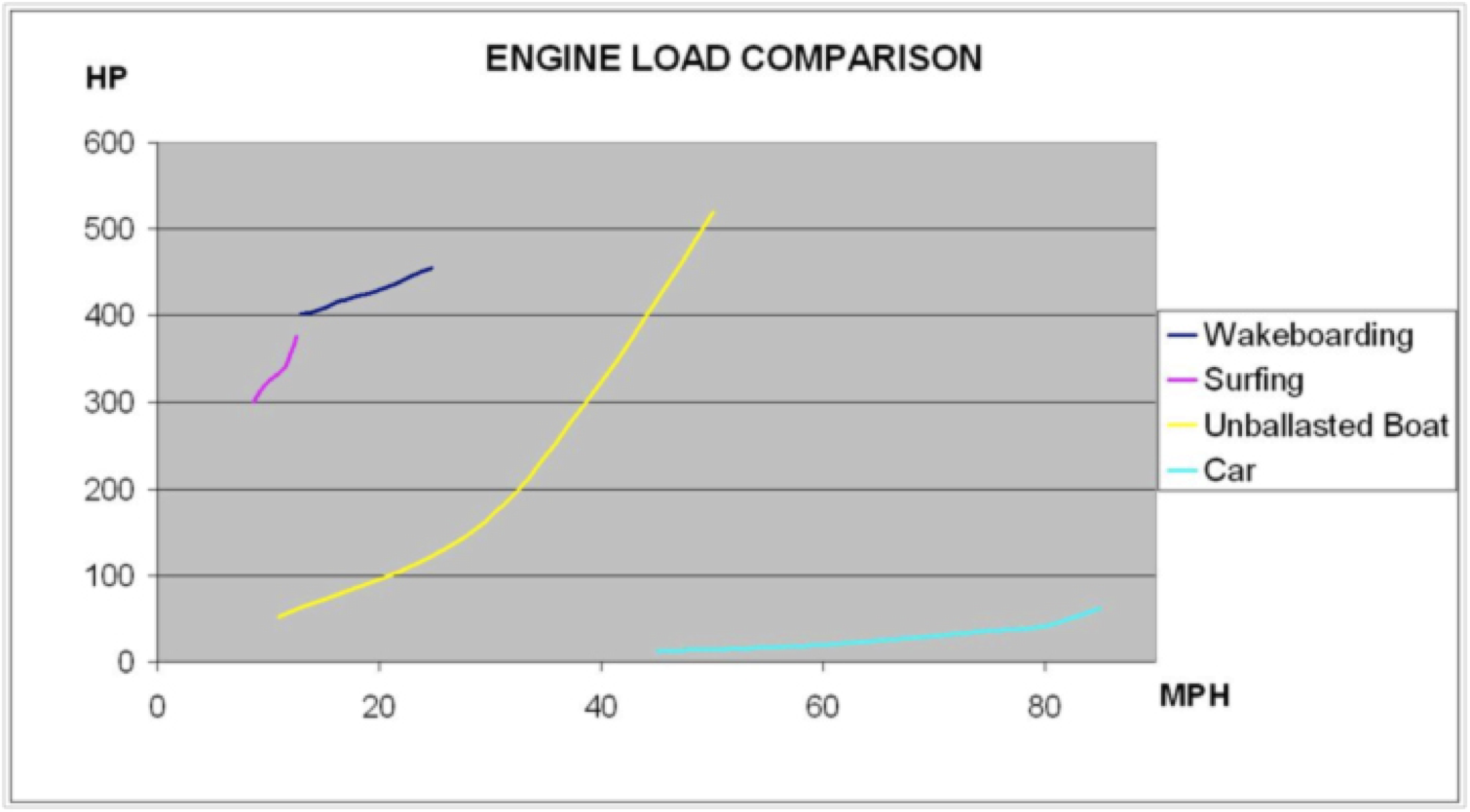 As you can see the horsepower required for wakeboarding and surfing is infinitely higher in comparison to a car or even in normal boating operation. With our LSA test engine loaded we see that wakeboarding requires nearly 450 horsepower at 23 mph and surfing requires nearly 380 horsepower to push out 11 mph while the car requires a mere 75 horsepower to achieve 80+ mph.

During our *480 hour durability test we noticed that when engines under normal load (no ballast) reached 30-35 hours between oil changes they experienced greater oil consumption due to the breakdown of oil viscosity. Oil was changed every 50 hours per the owner's manual and this was the findings and our collective takeaway:

*Engine also had appropriate break-in hours

After 30 hours – ½ qt. loss
35-38 hours -1 qt. loss
40-45 hours – 1.5 qt. loss

*Note With ballast added, the oil consumption could increase from the values listed above.

Oil viscosity breaks down much quicker in engines operating under greater loads, the most extreme during wakeboarding loads and speeds. With this information we are recommending that your service techs inform your customers that if they are operating their boats under these typical loads for wake sports they should change their oil every 30-35 hours. This will help reduce oil viscosity breakdown, increase engine life and minimize their concerns and experiences related to oil consumption. Boats that are predominantly used in normal boating or skiing conditions can maintain their 50 hour oil change regimen per the owner's manual.

We hope that you found this research helpful and you continue to feel confident that Indmar will go the extra mile in maintaining that unique customer care and distinct customer service advantage. As always, we encourage any feedback to make us all stronger.


We regularly receive alternators returned for warranty inspection that have issues that are not related to defects in the alternators themselves. For Example:
The most common issue we see is corrosion of the alternator. Although corrosion can cause an alternator to malfunction, it is not a defect of the alternator and in most cases can be linked back to improper care and maintenance by the boat owner. Generally speaking, corrosion of the alternator is not warrantable and the claim will most likely be denied.
The second most common issue we see are alternators that are sent back for warranty but test good. We test them on an alternator tester like the ones you will find at many auto parts stores. We suggest that before you send an alternator for warranty that you do the same. A good alternator may not charge properly due to several outside factors like a loose belt, bad battery, bad battery switch, bad battery isolator, loose and/or dirty electrical connections and cables. An alternator that tests good will not be paid. The alternator will be returned if requested or scrapped.
The third most common failure we see are alternators that have low or no charging capability because of diode or voltage regulator failures. The diodes in an alternator change the AC current that the windings in the alternator produces to DC current that the battery needs for recharging. The voltage regulator controls the voltage so an appropriate charging voltage is supplied to the battery. There are several things that may take out diodes or regulators in the alternator: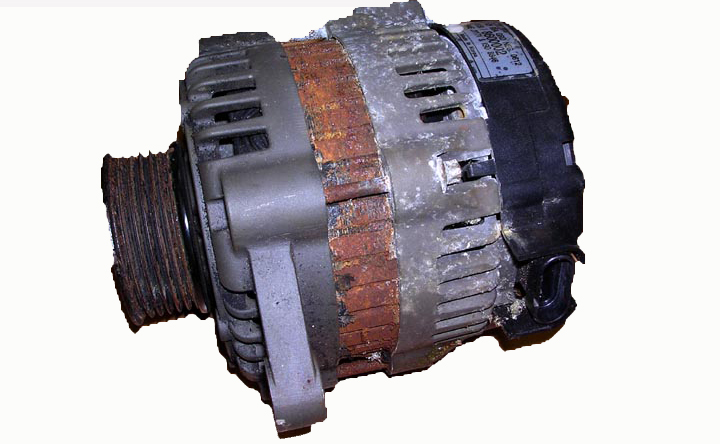 Photo of actual alternator recieved for warranty inspection.
1. REVERSE BATTERY POLARITY. Every spring when the customer reconnects that battery after winter storage we hear of customers that accidentally reverse the battery leads and connect positive to negative and negative to positive. This generally results in a large arc at the battery terminals and failure of the diodes and/or regulator in the alternator as well as other components in the electrical system of the engine or boat that are polarity sensitive such as ignition modules, ECM's, stereos etc. If the customer comes in with a bad alternator and a starting or ECM issue or a blown stereo, ask some questions. For several components to fail at the same time there had to be some external influence like reversed battery leads or reversed jumper leads.
2. POOR CONNECTIONS: When there is a defective connection between the battery and alternator, charging current will be forced to find an alternate route to flow out toward the battery. A defective connection may be caused by corrosion or an open circuit from a break in several battery cable strands or simply a loose connection. The alternate route that current finds usually leads to excessive current flow, causing the diodes to overheat and fail.
3. POSITIVE CIRCUIT FAULTS: A bad connection or open circuit between the alternator output terminal and the positive battery terminal will force the charging current to follow a parallel route through the diode trio and out of the alternator. This heavier than normal current flows though the diodes and will cause them to overheat and fail. Consequently, if you have replaced an alternator because of bad diodes, and the replacement fails for the same reason, there is likely a bad connection between the alternator BAT (B+) terminal and the positive side of the battery circuit. Do a voltage drop test to check the entire circuit. Also, never remove a battery cable when the engine is running. This will cause the diodes to overheat and fail. Never use the alternator to bring an undercharged battery to a fully charged condition. The excessive current draw can overheat the diodes and cause them to fail.
4. NEGATIVE (GROUND) CIRCUIT FAULTS: The primary mount of the alternator serves as the negative ground for the alternator. This connects the alternator to the engine block which is in turn connected to the negative post of the battery via a ground stud on the engine. The ground stud on the engine holds all of the wiring harness grounds and battery ground with one nut and it is known to occasionally become loose, disconnected or corroded. When the alternator loses its ground, it can become damaged as it surges and could cause catastrophic damage to the voltage regulator within the alternator. It is important to keep the ground wires, stud and nut clean and tight and check it often.
5. OVERLOADED: Never use the alternator to bring a dead or undercharged battery to a fully charged condition. The excessive current draw can overheat the diodes and cause them to fail. If the customer has a dead battery, tell them to use a battery charger instead. If they experience a battery that is constantly being discharged, look for the cause … bad battery, aftermarket accessories or defective electrically operated accessories. Find the cause of the discharge before permanent damage is done.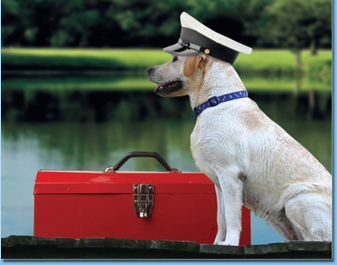 We are not saying that we never receive a defective alternator from our supplier …we do. We occasionally find them during our end of line testing and replace them as required.
Our experience tells us though, that most of the alternator issues that occur in the field can be traced back to some outside influence that is out of our control and not the result of a defective component. Those alternators that have clearly failed though some outside influence will not be subject to warranty reimbursement.